Our Experienced Staff
Our experienced staff deliver the highest quality emergency care for your pets. Route 66 Veterinary ECCC veterinarians and technicians have received extensive training by the finest veterinarians and veterinary technician schools.
From the time you drop off your pet until pick-up, your pet will have the dedicated care of a Veterinarian and Technician team. As a result, rest easy knowing your pet is never without a set of caring eyes on them. Our dedicated staff will keep you up-to-date on your pet's condition and treatment.
Above all, our mission is to create positive change in people's lives through compassionate care for their pets. This philosophy is at the heart of each team member's actions.
Rowan Welcome, BS, CVT
Owner and Hospital Director
---
Rowan has been working in veterinary medicine for over 22 years. She has worked in nearly every position possible in a veterinary hospital including management. She obtained a BS in Evolutionary Ecology with a minor in Pre-Veterinary Studies from University of New Mexico. With vet school as her main goal for graduate school she and her husband moved to Oregon to pursue Veterinary Studies further. However, after becoming a Hospital Manager she discovered that Veterinary Business was her passion. She attended Oregon State University Business School for her graduate studies. During her stay in Oregon Rowan passed the VTNE and became a Certified Veterinary Technician. After years of study in Oregon she was very happy to return to the Land of Enchantment, the state she truly calls home.
It has been Rowan's and her husband Dr. Jeremy Welcome's dream to create their own hospital for nearly a decade. She has a passion for creating a nurturing and fulfilling workplace for Veterinarians and Technicians. She has incredible vision and would like to revolutionize the client, veterinary staff and hospital bond. It is her goal that every client and patient that passes through the doors of her hospital feel loved, valued, and cared for. Her philosophy of taking care of people in a stressful time of need resonates through Route 66 Veterinary Emergency & Critical Care Center's approach to comforting their clients and patients.
In her spare time Rowan enjoys mountain biking, horse back riding, organic gardening, painting, hiking and dancing Hula, something that she picked up growing up in Hawaii as a child. Family is always her greatest priority and she loves spending time with her kids, fuzzy and human. She has a great passion for community service and enjoys giving back to her city of Albuquerque. She feels that giving of yourself to others in need is the greatest gift a human can give.
Jeremy Welcome, DVM
Owner and Medical Director
---
Dr. Welcome is a second generation Veterinarian. He grew up in upstate New York helping his father with his mixed animal practice. Growing up watching hard working veterinarians save animals lives on a daily basis helped Dr. Welcome to understand compassion and hard work are a way of life.
Dr. Welcome obtained his Bachelor's degree from Worcester State College in Massachusetts. He later obtained his Veterinary Degree from Tufts University in 2003. Upon graduation he completed an internship in small animal medicine and surgery which is what initially brought him to New Mexico. It was during his internship that he found his love for emergency medicine as well as his wife and future business partner.
Dr. Welcome worked in small animal general medicine for 7 years after veterinary school. In 2010 he returned to the discipline he loves, emergency medicine. He has spent the past years tirelessly working to help the people of Albuquerque's injured pets. He truly cares about the well-being of his patients and the comfort of his clients. It is this desire to help people that has driven him to open his own Emergency Practice. Route 66 Veterinary Emergency & Critical Care Center was born out of Dr. Welcome's and his wife's passion to care for people as well as their pets. It is Dr. Welcome's intent with every interaction with a patient and client to care for both as a single entity. He understands the pet owner bond better than most people and wishes to create a hospital where both are treated well in moments of need.
In Dr. Welcome's spare time he is avid mountain biker, hiker, gardener and baker. He enjoys teaching his children the importance of enjoying the quiet beauty of nature and serenity of the outdoors. Giving back to the community is a major mission in Dr. Welcome's life. It is with this goal that he hopes to educate and help guide the Albuquerque pet community to a healthier existence.
Ashley Reid, DVM
Medical Director
---
Dr. Reid is a native to New Mexico and is happy to be practicing in the community she loves. She completed her Bachelor's degree at the University of New Mexico. She obtained her Veterinary Degree from Oregon State University in 2015. After graduation she returned to New Mexico where she completed a rotating internal medicine and surgery internship. It is here she developed a real passion for emergency and critical care medicine. In addition, she enjoys feline medicine, pain management, and soft tissue surgery.
In Dr. Reid's spare time she enjoys taking her dog, Penny, on hikes and fishing. She dabbles in rock climbing. She also has two adorable black cats, but admittedly "loves cats and loves every kind of cat".
Elsbeth Centola, DVM
Emergency Clinician
---
Dr. Centola grew up in the San Francisco Bay Area and beautiful Central Oregon. She completed her Bachelor's degree with high honors from Delaware Valley University in Pennsylvania majoring in biology with a specialty in zoology and minor in large animal science. She then came back home to obtain her Veterinary Degree from Oregon State University.
Before joining Route 66 she practiced in southwest Virginia and the midwest outside Chicago. Dr. Centola accidentally stumbled into emergency and critical care medicine after several years working as a general practitioner. She gotten hooked and has now chosen to make it her career. She has special interests in diagnostic ultrasound, dentistry and oral surgery and internal medicine particularly endocrine disease. Dr. Centola also has a passion for teaching and client education.
Dr. Centola has lived all across the nation, including Oregon, California, Illinois, Pennsylvania, Washington, D.C., and Virginia, and has traveled to almost every state in between. Her heart has always been in the west and she is excited to be able to call New Mexico her home for the long term.
Dr. Centola lives in ABQ with her husband, her all American mutt and frisbee sensation Juniper, a adorable Welsh Corgi Oakie and two spoiled rotten kitties; Mittens and Splat. In her spare time she enjoys yoga, sampling beer at local breweries, hiking, camping, and doing anything outside with her family.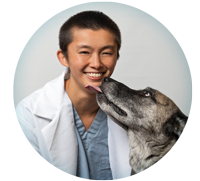 Gabrielle Woo, DVM
Emergency Clinician
---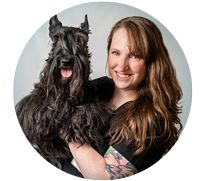 Avery Rowlison de Ortiz, DVM
Emergency Clinician
---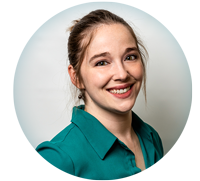 Rachael Joyce-Morales
Hospital Manager
---
As the child of a veterinary technician, Rachael grew up within the veterinary community. She has been working in the veterinary field for nearly 18 years and has been a technician for 6 years. Rachael is a graduate of The University of New Mexico with a B.S in Biology and continues her education in other areas.
Emergency/trauma medicine is Rachael's favorite area of medicine, but she has developed an interest in critical care in recent years. Rachael has a great passion for helping animals of all species and their human counterparts through emergency situations with compassion and patience.
In her spare time Rachael is an avid reader and student, practices Jiu Jitsu and spends her time with her husband and their three rowdy dogs.
---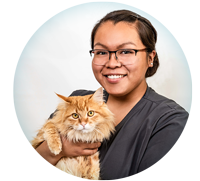 Tisha Pacheco, RVT
Technician Supervisor
---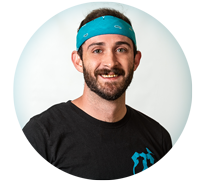 Cam Scott
Technician Supervisor
---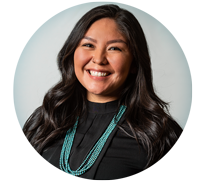 Marion Gallo
Referral Manager
---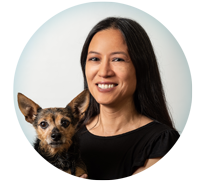 Karla Tayao
Veterinary Social Worker
---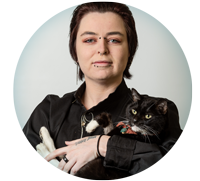 Min Alexander
Client Care Supervisor
---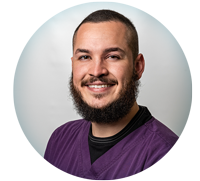 Cesar Trujillo-Kirk
Client Care Supervisor
---
---
Join Our Team
Are you a skilled veterinary medicine professional focused on compassionate care? Are you looking for a new opportunity? We'd love to hear from you! Check for current openings »