Euthanasia Services
Route 66 Veterinary provides euthanasia services to end medical suffering for your pet. If you are ready to say goodbye to your pet for a medical reason, please contact us at (505) 266-7866. We will arrange for an End of Life Consultation for you and your pet.
During your pet's End of Life Consultation, one of our veterinarians will review your pet's medical information and perform a complete physical exam. We will talk to you about your reasoning for ending your pet's life due to illness or trauma as well as any other options that may exist if you are interested. We will go over the process of euthanasia and talk to you about body care.
Please note: We will never perform euthanasia for any reason other than ending medical suffering.
---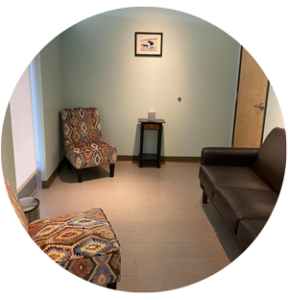 Serenity Suite
We have a private serenity suite available for euthanasia patients and their families. This suite is set up like a regular living room, and not a sterile hospital environment. Our goal is to help our clients and pet patients to feel as comfortable as possible during this difficult visit. There is also a private exit from the room to allow you to leave when you need.
---
If you prefer a Veterinarian come to your house to perform euthanasia the following Vet services will be more than happy to provide this service for you:
---
Pet Loss Resources
Losing a pet can be just as painful as losing a human family member. Please read our Pet Loss Resources for information and tools to help you get through this difficult time.